Let us Handle Your Business Waste
Colson Transport provide a market leading service for business waste collection in Hucknall. We believe that both from an environmental and a business perspective, it is hugely important to get your waste disposal right. Whether you are a small or large business owner, we are there to help make your business responsibilities a little bit easier.
Colson Transport Ltd are a family owned business with years of experience collecting and recycling trade waste in Hucknall. If you would like to talk to a reputable & local company about your business waste collection call us now on 01773 765720 or click on the button below and fill out a form online!
The Hucknall Business Waste Specialists
We are the Hucknall business waste specialists! We have years of experience in the industry and in the local area. In the hectic world of business, it feels like there are at least a million and one things to be thinking about, so it is not surprising that business waste collection is often contracted out. We recommend this as the easiest and most efficient way to stay on top of waste disposal.
Here are just a few of the benefits of outsourcing your business waste management to Colson Transport:
Peace of mind knowing that all the legal requirements have been met with the removal of your business waste in Hucknall.
Having a clean working environment because of regular business waste collections.
Maximise your own time and staff's time to concentrate on business opportunities rather than trying to work out a solution to deal with waste management.
Using Colson Transport business waste in Hucknall will save your business money.
Helps you build a positive brand image – We offer discounted rates as an incentive if you separate your recyclables into different containers, which creates a win win. You can save money AND demonstrate to clients that you are an environmentally conscious company.
What is Classed as Business Waste?
Business waste is any type of waste generated as a result of business or trading activity. This could fall into any sector that has a commercical element. Whether you are a start up business operating out of your own home, or you are a large, established corporation, you will be producing business waste. Commerical waste might include:
Biodegradable waste
Chemical waste
Electronic waste
Demolition waste
Electrical waste
Construction waste
Food leftovers from commercial properties
In line with the Environmental Protection Act 1990, it is essential that you take measures to safely contain and legally dispose of waste produced as a result of your business activities. If this is something that your business needs help with, from a trusted & local Hucknall company, get in touch with Colson Transport today!
We believe in building up long lasting relationships with businesses who, like us, are committed to finding convenient solutions to problems that will help improve the environment we live and work in. Call us today to discuss business waste collection in Hucknall on 01773 765720 or fill out our quote form below: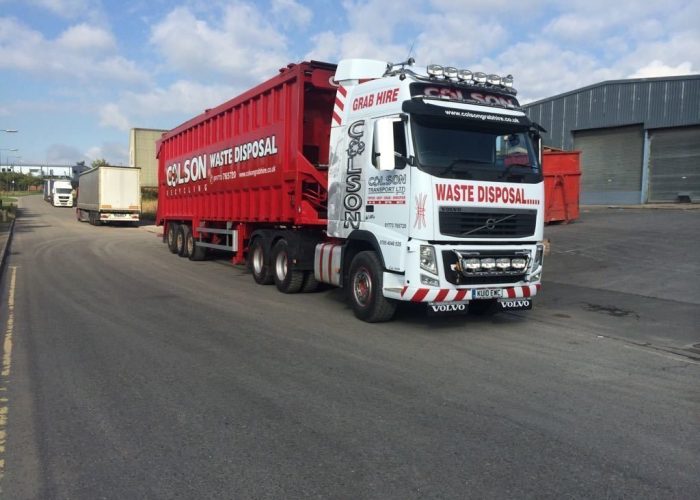 GET A QUOTE
Tell us about your project using the form below and someone will be in touch with you as soon as possible: